Pardee Homes San Diego emphasizes indoor/outdoor living in their latest neighborhood, Sandstone
by Abby Pittman
Set against the hills of Santee, CA, Pardee's newest award-winning master-planned community, Weston, has opened its latest neighborhood: Sandstone. Designed for move-up buyers, Sandstone features a total of 80 detached single-family homes ranging from approximately 2,311 to 2,599 square feet.
"Sandstone was kind of hitting this niche and segment in San Diego that I don't think existed until it opened in December 2017," Division President of Pardee Homes San Diego, Jimmy Ayala, said. "There had been a void in San Diego — and even in our portfolio — of what Sandstone provides. We embarked on a design for Sandstone thinking that [the neighborhood] would really do well in the Santee area with move up buyers — people that are moving out of downtown and out of an apartment and looking for their first entry home. Sandstone has done everything to fit that bill."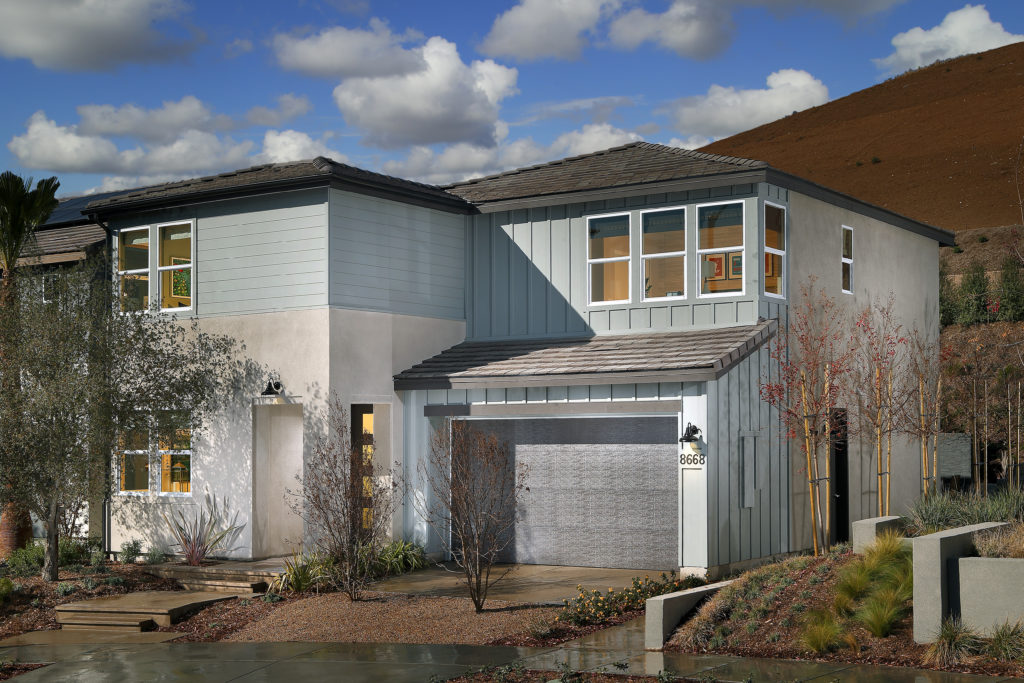 Designed by William Hezmalhalch Architects (WHA), Sandstone features a highly developed indoor/outdoor floor plan ideal for Southern California residents. "The way we work with (WHA) is pretty detailed," Ayala explained. "We typically don't just hand it over and say 'hey, look, we need something in between 2200 square feet and 2600 square feet.' The collaboration was all about how we can provide a really open concept floor plan regardless of the size of the home."
Incorporating an indoor/outdoor lifestyle was most important to the Pardee developers, since Weston as a whole markets itself as an outdoor community. Set against nearly 95 acres of dedicated protected space at the Mission Trails Regional Park, the area is full of biking and hiking trails. The community is also only two blocks away from the Santee Lakes, a 190-acre park with seven recreational lakes, and 15 minutes away from the open ocean — Santee is about as active as you can get.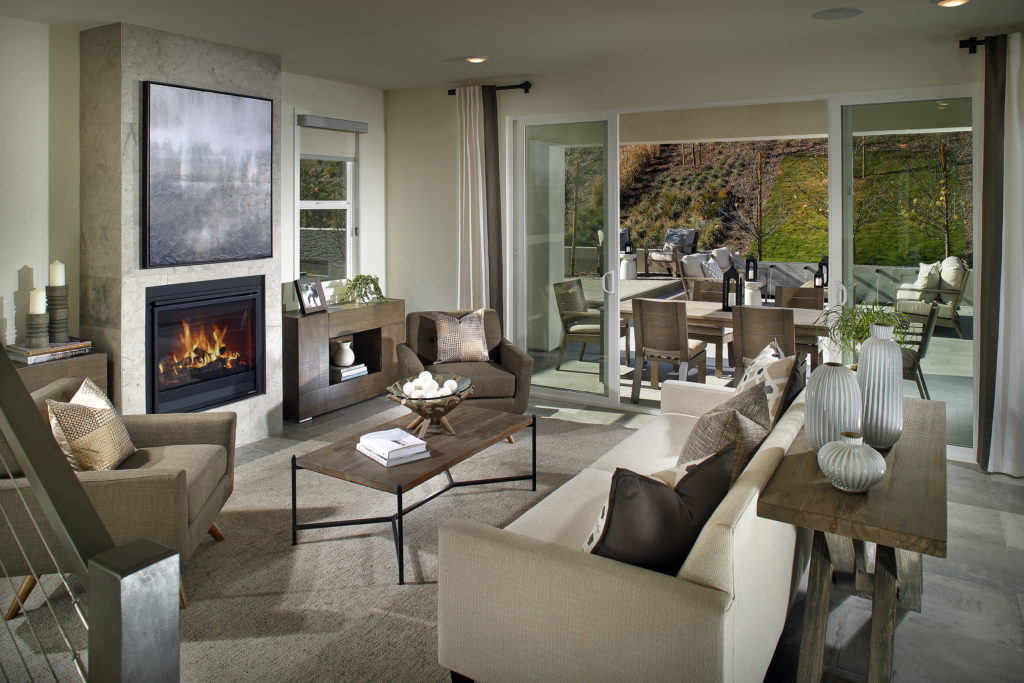 "Real estate is always driven by location, and we obtained a great location in this area that is centrally located in San Diego," Ayala said. "The abundance of outdoor amenities offers you a break from wherever you went to work that day if you don't work at home."
The masterplanned community of Weston features 415 homes in four different neighborhoods — Lake Ridge, Sandstone, Talus, and Prism — with each one designed for and marketed towards a specific demographic. Prism is designed for entry-level buyers, with prices beginning  in the $500,000 area. Weston is next for the move-up buyer in the $600,000 range, while Talus sits in the $700,000 range, with Lake Ridge from the $800,000 to $900,000s.
Sandstone homes are modeled after the Lake Ridge houses, just on a smaller, more affordable scale. The homes still incorporate open floor plans and large sliding doors and windows, and, most importantly, they open up to backyard living spaces that can include a grill, a fire pit, a fountain, and other features that enhance the outdoor living experience.
Because Weston is so focused on outdoor living, Pardee Homes made the generous decision of dedicating nearly half of Weston's site to be preserved as permanent open space in the Mission Trails Preserve. This is not the only instance in which Pardee Homes has made positive environmentally conscious decisions; this is also their first all-solar community. Partnered with SunPower, Pardee will be providing every single home with state of the art, energy-efficient solar panels available to buy or lease.
"Weston's all-solar program has been designed in response to both the growing demand from energy-conscious buyers and the State of California's zero-net energy goals," Ayala said. "By designing an environmentally-conscious community that adheres to Title 24 regulations to ensure new buildings are energy-efficient and preserve environmental quality, we're simultaneously delivering appealing home options across a variety of buyer segments and price points while achieving an unparalleled level of state-recognized compliance."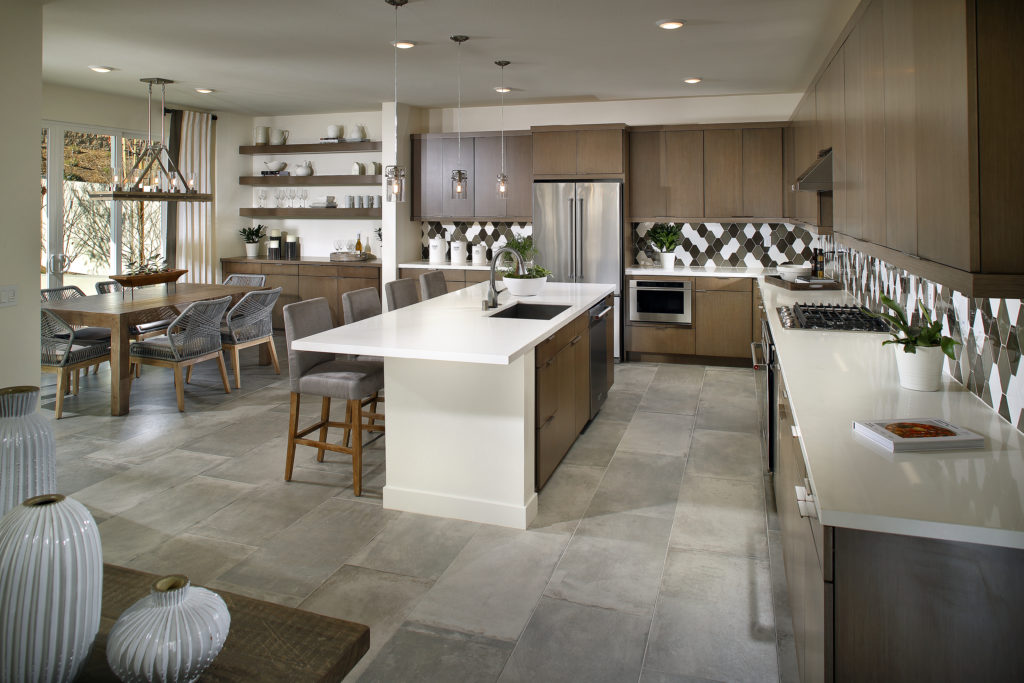 Sandstone, along with all of the other neighborhoods in Weston, will feature Pardee's unique LivingSmart® program. Comprised of five areas of advancement — HealthSmart®, EnergySmart®, EarthSmart®, WaterS- mart®, and HomeSmart® — this program focuses on providing home technology that will enrich buyers' lives, by contributing to their health and well-being as well as the planet's.
Perhaps it was these innovative programs that lent Pardee the lead in winning PCBC Gold Nugget Awards. Winning two separate awards for the Sandstone neighborhood, Pardee Homes took home the Best Single Family Detached Home – 2,500 to 2,999 sq. ft. for Plan 3 at Sandstone, as well as the Residential Detached Collection of the Year for the Sandstone Neighborhood.
"I think it's the combination of the builder and developer, the architect WHA Inc., interior designer withINdesign, and our landscape architect Andrew Reese," Ayala said. "It was all of us together collaborating saying, 'this lot, this parcel, this house has to be one collaborative effort for it to really come off well. '"
According to Ayala, without attention to detail, and without a seamless design of indoor/outdoor living with all elements being addressed such as design, landscape, and architecture itself, it's impossible to have a really good looking property. "You want to feel as if your house extends to the outside," Ayala explained.
Sandstone delivers on indoor/outdoor living with seamless designs, and exterior community amenities that make the most out of Southern California living. "We've been in San Diego for almost 65 years — and we still have a great land position here." Ayala said. "We plan to be here for a very long time, adding to the success of hopefully 65 more years."
Abby Pittman is the Editor for Builder and Developer Magazine. She may be reached at abby@penpubinc.com